Stainless Steel Thread Anti-Seize Lubricant
Biodegradable – Biobased Anti-Seize Extreme Pressure Lubricant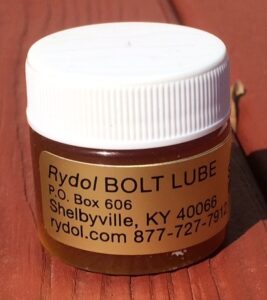 #55001 – 1 oz – $2.95
#55016 – 16 oz – $16.95
#55032 – 32 oz – $31.95
#55128 – 1 Gallon – $99.95
RyDol Stainless Steel Thread Anti-Seize Extreme Pressure Lubricant is a premium quality biodegradable lubricant formulated with the best optimized USA-grown natural seed oil that surpasses the lubricity of most conventional oils. It protects against galling, has a high flash point for safety and is readily biodegradable. Contains PTFE and Boron Nitride for resistance to Extreme Pressure and provides a low coefficient of friction. Non-Corrosive and Non-Abrasive. Replaces PTFE tape.
Specifically formulated to meet the demanding applications of Stainless Steel Thread fastening where heavy loads and high torque are present.
Benefits:
Superior lubricity protects Threads from galling

Mostly benign when released into environment

Meets USDA's proposed biobased product definition for EO 13101

Meets EPA's Environmental Preferable Purchasing (EPP) criteria

Made from renewable USA-grown crop-based oils
Performance Levels: Designed to provide the anti-galling performance requirements for Stainless Steel Structurals.
PO Box 6557
Maryville, TN 37802-6557